Page 2-- the way down and out from Mount Kopinang, Wokomung Massif . . . . . Page 1-- the way in and up. Photographs are copyright Valerie C. Clark and can only be used with written permission.
This is the hike down from Wokomung Massif Kopinang summit and ride back to capital city of Georgetown, Guyana, northern South America...
Bruce Means and a Liophis snake that we encountered while tracing our steps down the mountain.
Beautiful red flower and a zebra bromeliad.
This is not the way we came up. But an interesting route out, with Jasper stream shown on left and the edge of the forest flanked by cssava fields shown on right. We picked up giardia here!
Kopinang family living at the edge of the forest where they grow cassava.
Bruce and Val can no longer stand on their own, after climbing up and down the tepuis in the background of this photograph.
Resting on left with a yellow footed tortoise after hiking the area shown in middle. Bruce rested next to the runway as we waited for our plane to do a two-minute touchdown to pick us up!
This young mother and church going girl chatted to us before we left. What beautiful young ladies!
Many local people resort to gold and diamond mining. Dion (above) helped us in the field.
On left, leaving Wokomung Massif. On right is the only paved runway seen on our three touchdowns en route back to capital Georgetown. Runways and development are becoming more common as mining operations move in across the region and threaten the virgin forests now covering 80% of Guyana.
You can see the rain from the plane (left) and awesome landscape of sky islands (right).
The tepuis were amazing and we flew less than 3,000 feet off the ground-- danger danger!
Three magnificent tepuis (left). You can see the waterfall and individual trees from the plane!
What creatures and flora unknown to science await to be discovered here?!?
The sheer cliffs and green valleys invite extreme exploration!!! Funding for a helipcopter, anyone??
Our little cessna plane being refueled in the wing on the dirt runway with a tepui in background.
A cyanide pool on left and chemical runoff (right) contribute to the devastation and pollution of the area.
All the mining chemicals runoff into the watershed-- this is the Essequibo River in Guyana.
Fields of sugar cane and the longest pontoon (floating) bridge on Earth, outside Georgetown.
Our collaboartors at the University of Guyana-- Michelle is a native of Guyana who heads up the Biodiversity Center (see Bruce with murals) built by the Smithsonian Institute-- she earned her Master's at Oxford University. We smile with Dean Philip da Silva as we say thanks and see-you-again-soon!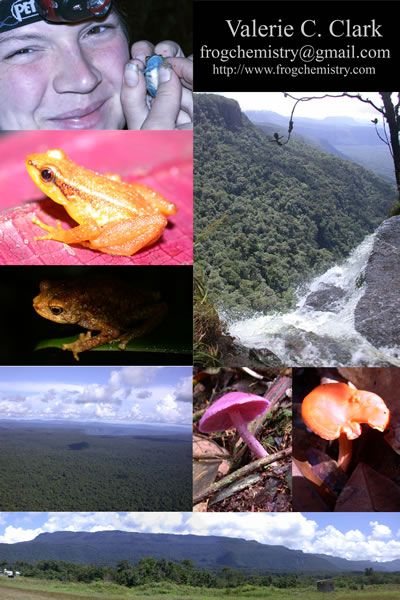 All photos are copyright Valerie C. Clark and can only be used with written permission from [email protected].
Return to page 1, Back to top of this page,OR Return to Home of Valerie C. Clark