Photographed throughout Madagascar in 2003, 2007 and 2008.
Photographs are copyright Valerie C. Clark and can only be used with written permission.
~~~~~~~~~~~~~~Please scroll down~~~~~~~~~~~~~~
2003 expedition

Valerie Clark in Antananarivo with John Daly (left) and in Ranomafana (right) in 2003.
I am using a Transcutaneous Amphibian Stimulator to encourage frogs to secrete their secret juices.
Left: Valerie Clark and Val kely Rakotomalala hanging sifted leaf-litter in mini-Winklers at Ranomafana. Right: Here I am putting the whirl sac on the bottom of the mini-Winkler-- all the arthropods fall into this plastic bag as the litter dries out in the mini-Winkler.
My bathing spot in the Namorana River by Talatakely in Ranomafana National Park. The water was extremely cold!!
Whoa, he is cranky fella! Panther chameleons (Furcifer pardalis) are very common in Lokobe, Nosy Be, NW Madagascar. I had a pet chameleon like this one from age 12-18!!
I really enjoyed this sunset in Ifaty, a nice beach with reefs for diving in SW Madagascar (near Toliara). The cloth I am wearing is called a 'lamda' in Malagasy.
2007- 2008 Expedition
November 2007, in Diego, northern Madagascar: (L to R) : Brian L. Fisher, Valerie C. Clark and Coco.
Diego 2007. Left: Furcifer oustaleti and I-- people revere and fear chameleons, so when I picked this one up everyone was astonished! Right: doing my quick lick taste test on Mantella viridis.
LEFT: Holding a snake in Andasibe, eastern Madagascar. RIGHT: With Mantella baroni at Vohiparara, Ranomafana, SE Madagascar (photo by Ingrid Daubechies) in 2007.
The following photos are from Januray and February 2008.
With my Nikon D200, Katie Schuler snapped these photos of me checking out some Mantella betsileo in Nosy Be.
This is a still that Katie Schuler pulled from her video footage. Yep, I am licking a poison frog.
With a common snake that is completely harmless and totally gentle, in Lokobe, Nosy Be, NW Madagascar.
I am making chameleon eyes at these Panther's (Furcifer pardalis) in Antafondro, Nosy Be. Female on left, male on right.
Left: Deeper in the non-protected forests of Lokobe. Right: with a treefrog (Boophis).
Left: In Ampisamdava-Lokobe Reserve with Madagascarophis colubrinus, a very nice nocturnal snake. Right: Palm tree and sunset on Ampasimpohy, a tourist area of Lokobe, Nosy Be.
Left: At the Nosy Faly Madagascar map statue we pose, Left to Right--Dijou our awesome guide, Val, and Katie Schuler. Right: In the forest of Ampasimpohy-Lokobe, Katie and Val.
Here I am at the sacred fig tree forest getting some love from 'Loco' the maki lemur (Eulemur macaco).
Our team lodged with this young couple in Nosy Komba-- Ferdinand and Brie were a delight!
There are over a dozen crater lakes on Nosy Be, and their waters range from green to blue.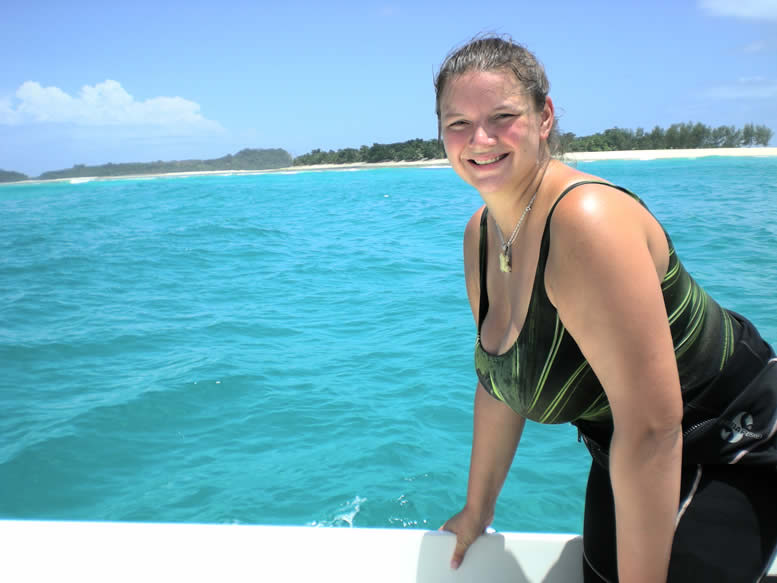 After wrapping our work in Nosy Be, Katie and I went SCUBA diving around Nosy Iranja.
This is my typical in-the-field day-lab-setup. I like to prepare samples on the spot. Vohiparara.
All photos are copyright Valerie C. Clark and can only be used with written permission from [email protected].
Back to top of this page,OR Return to Home of Valerie C. Clark